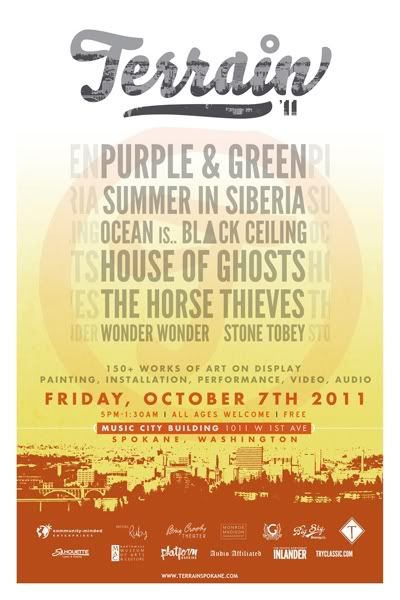 Friday, October 7 @ 5pm- October 8 @ 1:30am
ALL AGES WELCOME::FREE PUBLIC EVENT
AUDIO, VIDEO, VISUAL, INSTALLATION,
Community Minded Enterprises
Northwest Museum of Arts & Culture
The Pacific Northwest Inlander
Terrain was conceived in 2008 by a group of young
organizers obsessed with helping their peers get
noticed by the art establishment. Their idea was to host
a juried exhibition with the atmosphere of a pop concert,
giving all ages of people, regardless of taste in art or music,
an excuse to come together, make contact and facilitate art
that stretches across traditional boundaries.
"Last year 4,800 people piled into Spokane's Music City
building to view an exhibition of over 60 emerging local
artists... In our three years of existence,
Terrain
has shown
works of visual art, sculpture, fiber art, photography, graffiti,
film and installation pieces... We've showcased pop bands,
dance troupes, and poets. We make no distinction between
high art and low art- we simply want to showcase emerging
artists with talent and fresh perspectives."
-Exerpt/Terrain Spokane.com
AM SO LOOKING FORWARD TO A NIGHT OF AMAZING ART,
MUSIC, AND COMMUNITY. PLEASE JOIN US!
FOR EXHIBIT OVERVIEWS AND PHOTOS
FROM
TERRAIN 2011 & 2010 (and other exhibits)