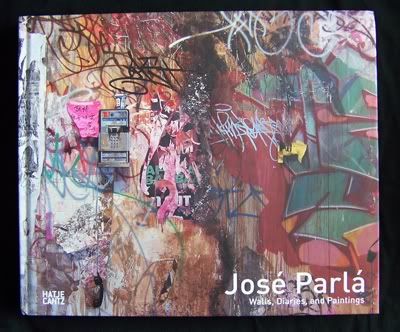 SNOWED IN TODAY WITH A CUP OF ESPRESSO AND
MY NEW JOSE' PARLA' BOOK... WALLS, DIARIES, AND
THESE CERTAINLY EQUAL HAPPINESS!
THESE PAINTINGS.. "CHRONICLE PARLA'S EXPLORATION
OF THE DIVERSE PLACES AND CULTURES HE HAS
TRAVERSED. FROM ISTANBUL TO HAVANA, FROM TOKYO
TO NEW YORK, THE COLORS AND TEXTURES OF THE
NEIGHBORHOODS AND ALLEYWAYS HAVE FOUND A
FORCEFUL AND MOVING RESOLUTION IN PARLA'S WORKS
THAT ARE INSPIRATIONAL AND REVEALING. "
-Excerpt/Byrce Wolkowitz Gallery, NY
PUBLISHED BY HATJE CANTZ, THIS NEW MONOGRAPH
WILL BE AVAILABLE FOR PURCHASE UPON THE